Forget the first rule of fight club, because today Nolimit City are forcing us to talk about it as they take us to a cage in an underground club. There aren't many people who would be willing to fight it out against an opponent – especially if that opponent is much bigger than them.
That hasn't stopped our friends at Nolimit City from pondering the idea and giving us their version of events though, which as you can imagine is sufficiently bloody and gritty to fit in with the rest of their catalogue, as they leave behind the 'fine' dining of Gluttony and introduce us to The Cage – where legends rise and champions fall.
With RTP options available up to 96.05% (96.33% feature buy), this highly (8) volatile release can produce wins up to 25,000x bet.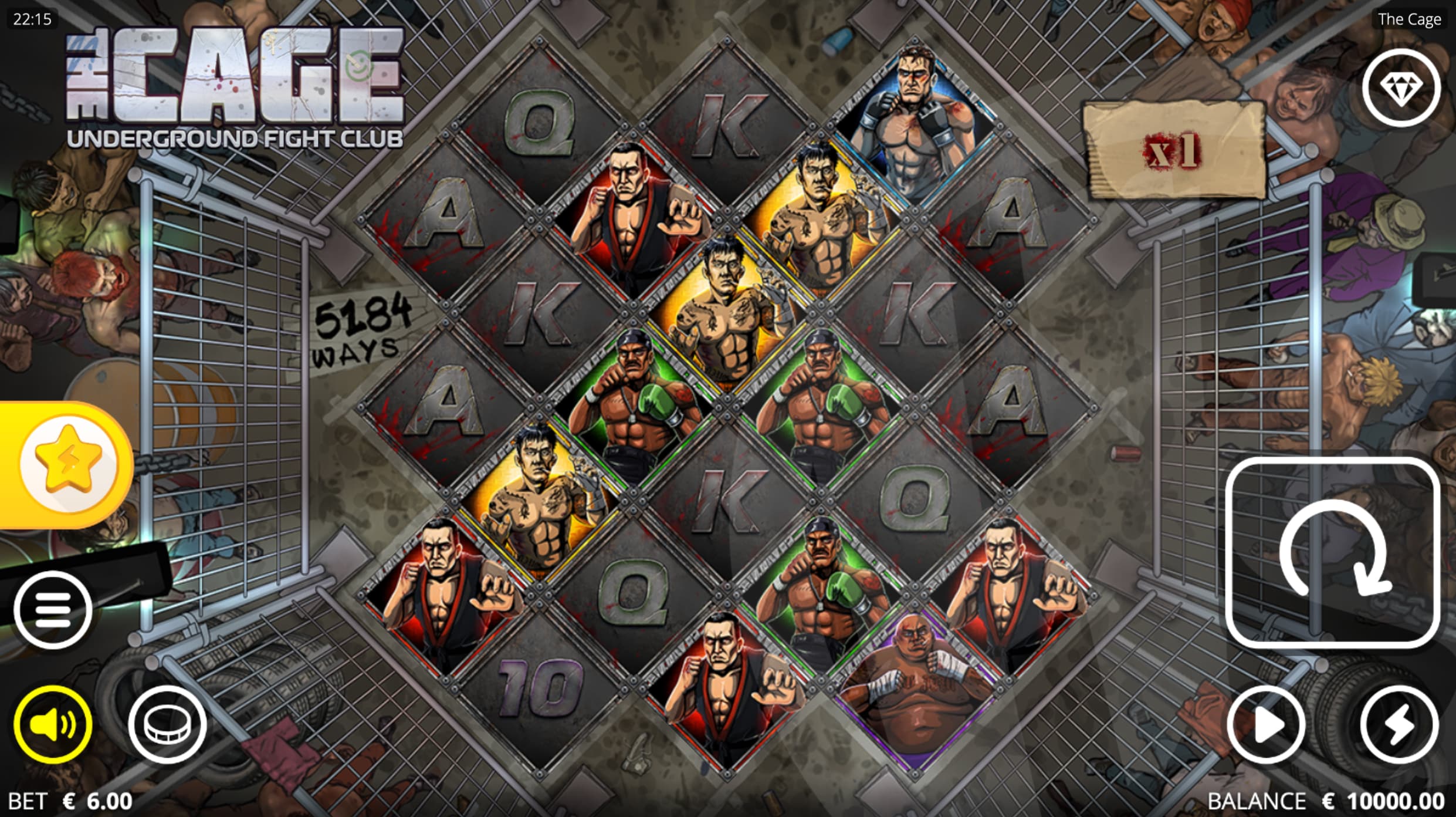 Well, we're in a cage today – where else would we be? The first thing you'll notice are the blood splattered reels, which take on the same kind of shape we previously saw in Dead Canary.
We have a variety of fighters acting as the symbols – each as formidable as the last – and spectators outside of the cage, which incidentally seems to be in some sort of underground garage, since we have some chains, tyres and oil drums scattered around. Finally, an upbeat soundtrack comes in to tie it all together, littered with the sounds of the crowd.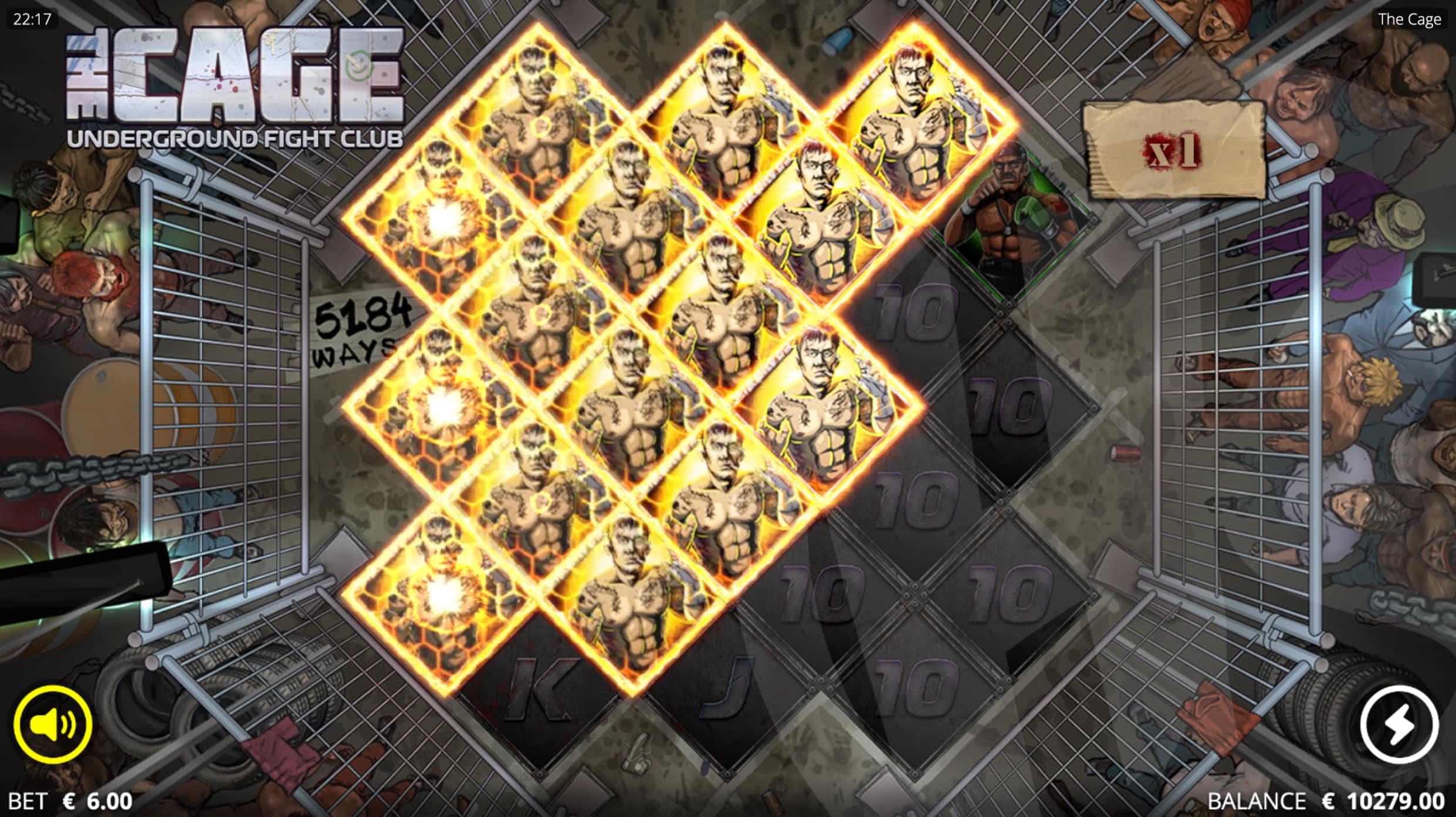 The Cage Base Features
Taking place across 7 reels, wins are formed on The Cage by matching at least 3 symbols on adjacent reels, beginning with the leftmost reel. Things can look confusing at first, but if you ignore the overall shape it's easier to see each of the reels, which hold 3-4-3-4-3-4-3 symbols, producing 5,184 ways to win.
However, during Freespins there are 9 reels in play. We won't get into this yet, but it helps to understand why symbols pay for up to 9 of a kind. Symbols available being with non premiums, with 10s, Js, Qs, Ks and As, awarding wins between 0.25 and 0.35x bet for 3 of a kind matches, increasing to values between 1.50 and 2x bet for 7 of a kind wins, and 2.50 and 3x bet for 9 of a kind wins.
At the premium end, we meet our five opponents, titled Big Fatty, Ironjaw, One Glove Man, The Constrictor and Little Dragon. Land 3 of a kind of any premium fighter to see wins between 0.50 and 1.25x bet, increasing to values between 2.25 and 3x bet for 7 of a kind matches, and 3.25 and 4x bet for 9 of a kind wins.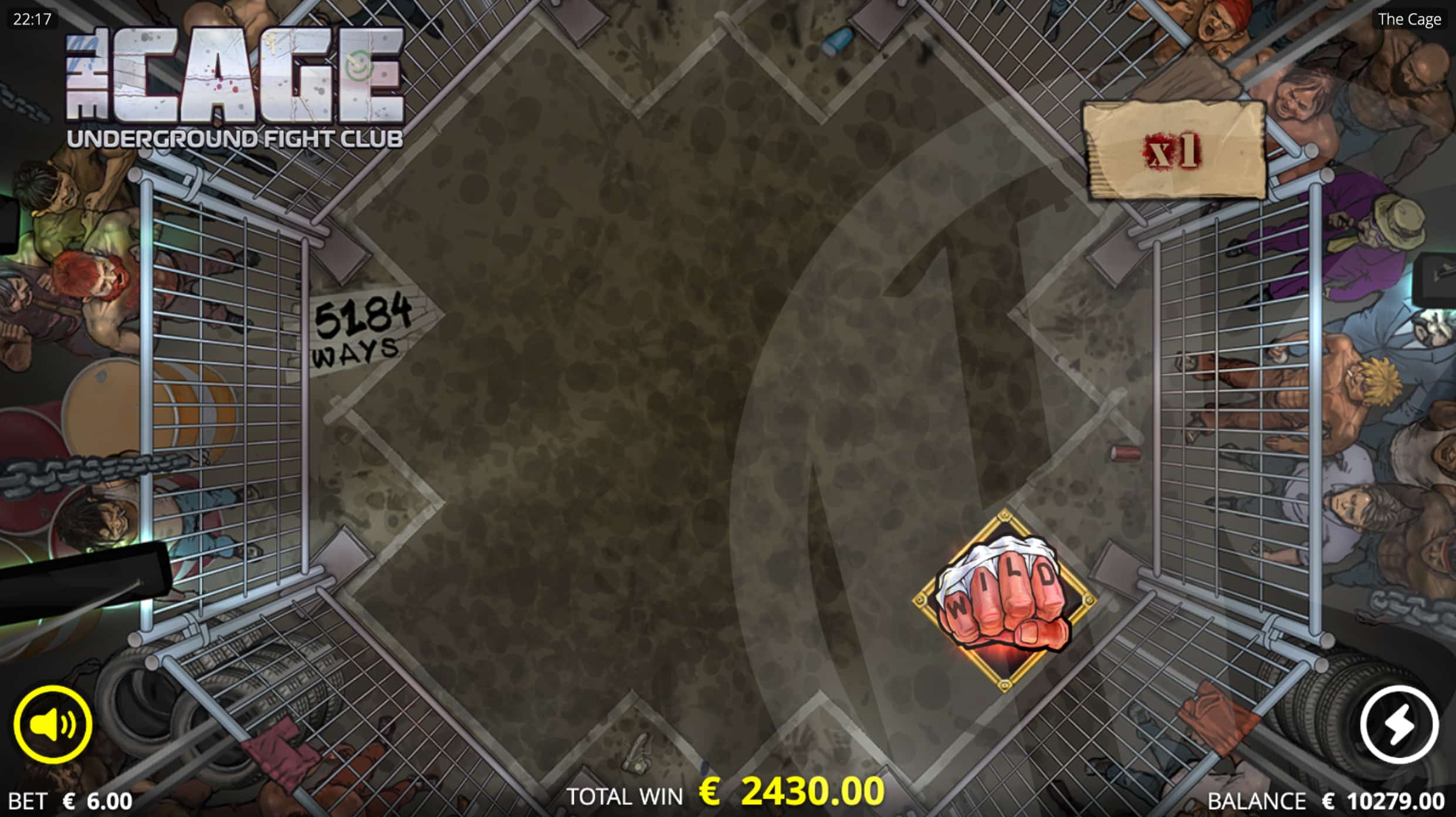 Collapses
The first thing to cover in The Cage is the collapse mechanic. On every spin, all symbols involved in a win will explode from the reels with all remaining symbols dropping down.
When they drop down, symbols will move down and right in a southeasterly direction, and then move to the left in a southwesterly direction. Once this happens, new symbols will drop in from above to fill the remaining gaps, with collapses continuing until no new wins are formed.
Wild Knockout xBombs
Next are Wild Knockout xBombs – a favourite of Nolimit City's, first introduced in Fire in The Hole. Wild Knockout xBombs substitute for all symbols except Scatter symbols.
They also explode all symbols adjacent to themselves in a cross pattern, except Scatter symbols and other Wild Knockout xBombs. Additionally, they increase the win multiplier by +x1 before the next collapse.
All Wild Knockout xBombs in view will be exploded before the next collapse.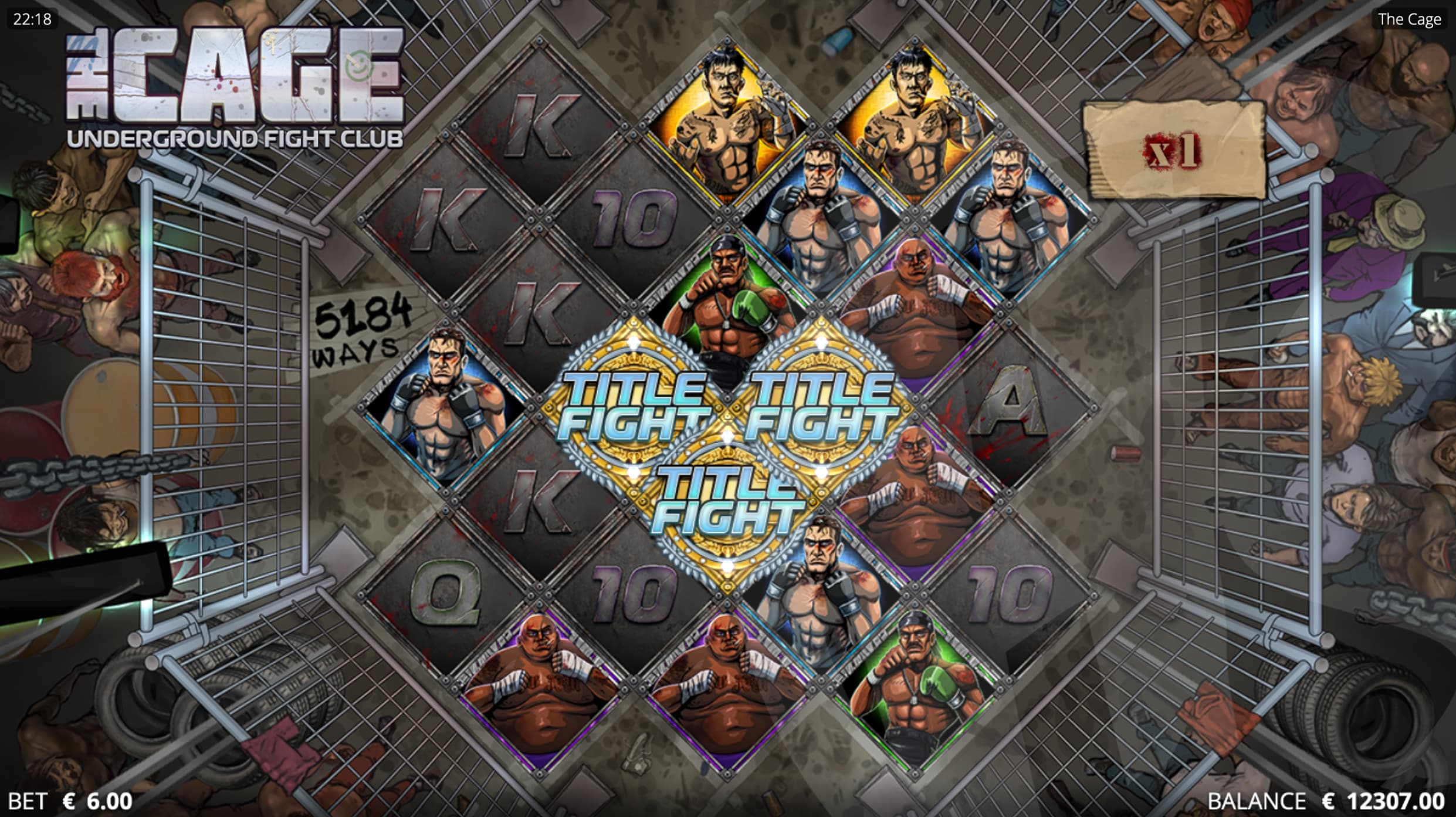 Roundhouse Kick
Finally for the base game is Roundhouse Kick, which is triggered when 3, 4, 5 or 6 of the same symbols align diagonally without forming a winning combination.
These symbols will be removed, leaving behind a Wild Knockout xBomb in the middle of the alignment. All other symbols on the grid will be removed before the next collapse, except Wild Knockout xBombs and Scatter symbols.
When Wild Knockout xBombs are created through Roundhouse Kick, they behave in the same way as they do when they land organically.
3 symbols award 1 Wild Knockout xBomb.
4 symbols award 2 Wild Knockout xBombs.
5 symbols award 3 Wild Knockout xBombs.
6 symbols award 4 Wild Knockout xBombs.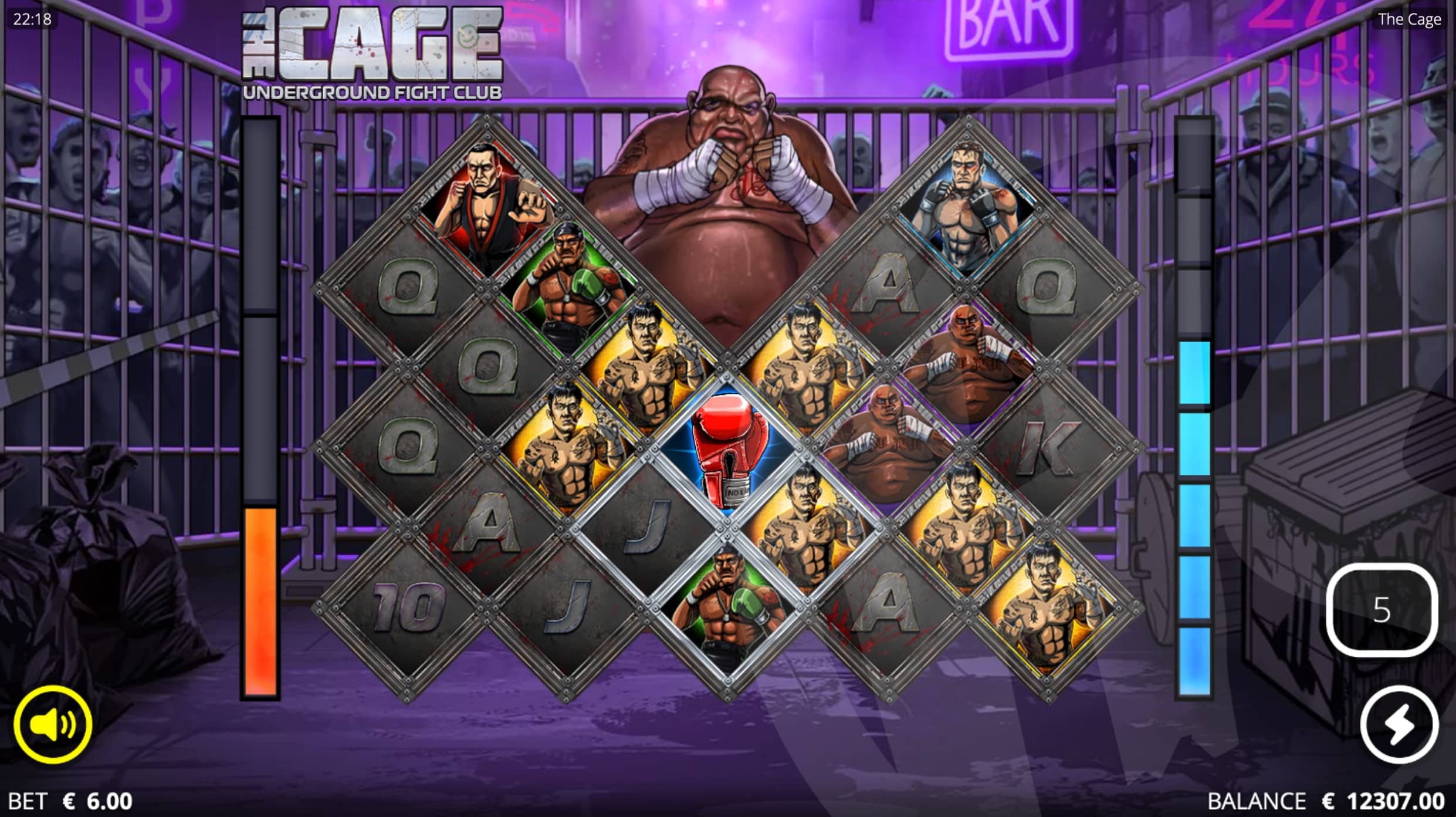 The Cage Bonus
Land 3 Title Fight Scatter symbols anywhere on the reels to trigger Title Fight Freespins. During the bonus, the reel area becomes 3-3-3-2-2-2-3-3-3 and wins pay both ways.
In the middle of the reels, there are 4 special title belt booster positions. These positions are inactive when the bonus begins, but they can be activated by progressing through different fights.
This progression occurs by landing Uppercut Symbols, which are red boxing gloves. Each Uppercut Symbol deducts -1 from the hit points of your opponent.
When your opponent is knocked out and no hit points remain, you move onto the next fight and receive additional spins.
Each time this happens, the next opponent is more difficult to beat, by having more hit points.
There are 5 fights.
Fight 1 (Jim "Big Fatty" Johnson) – 3 hit points, +3 spins if beaten and title belt #1 activated.
Fight 2 (Kenny "Ironjaw" Shambles) – 3 hit points, +3 spins if beaten and title belt #2 activated.
Fight 3 (Artie "One Glove Man" Jefferson) – 4 hit points, +3 spins if beaten and title belt #3 activated.
Fight 4 (Grayson "The Constrictor" Royce) – 5 hit points, +5 spins if beaten and title belt #4 activated.
Fight 5 (Wai "Little Dragon" Lee) – unlimited hit points with all title belts activated.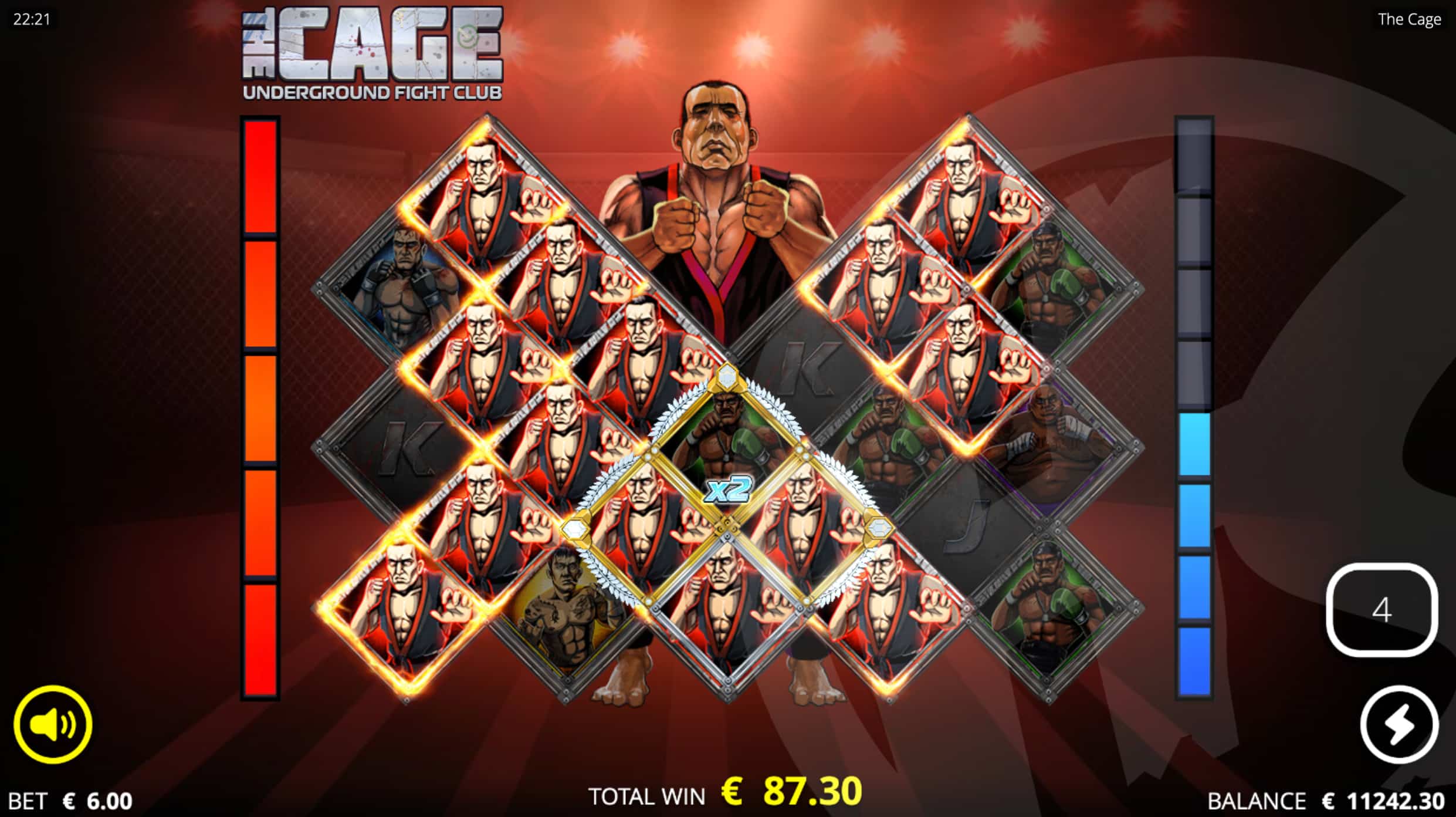 The only way to beat fight 5 is to become the Greatest of All Time and achieve the maximum win.
Each activated title belt has the potential to modify the bonus in a different way.
Title Belt #1 (Symbol Multiplier) – boosts all instances of a low paying symbol (10-A) landing in this position to x2.
Title Belt #2 (Symbol Transform) – transforms any low paying symbol (10-A) landing in this position to your opponent's premium symbol.
Title Belt #3 (Symbol Transform) – transforms any low paying symbol (10-A) landing in this position to your opponent's premium symbol.
Title Belt #4 (Sticky Wild) – sticky Wild symbol in this position for all remaining spins.
Nolimit Bonus
Players in appropriate regions can take advantage of the following Nolimit Bonus options:
Title Fight 1 (Big Fatty) – 68x bet (96.13% RTP)
Title Fight 3 (One Glove Man) – 198x bet (96.15% RTP)
Title Fight 5 (Little Dragon) – 498x bet (96.33% RTP)
Lucky Draw (30% Fight 1, 30% Fight 3, 40% Fight 5) – 279x bet (96.27% RTP)
RTP values above are based on the overall RTP setting of 96.05%.
The maximum win available in The Cage is 25,000x bet (GOAT – Greatest of All Time). If the sum of a single game round exceeds this, the game round will end and 25,000x bet will be awarded.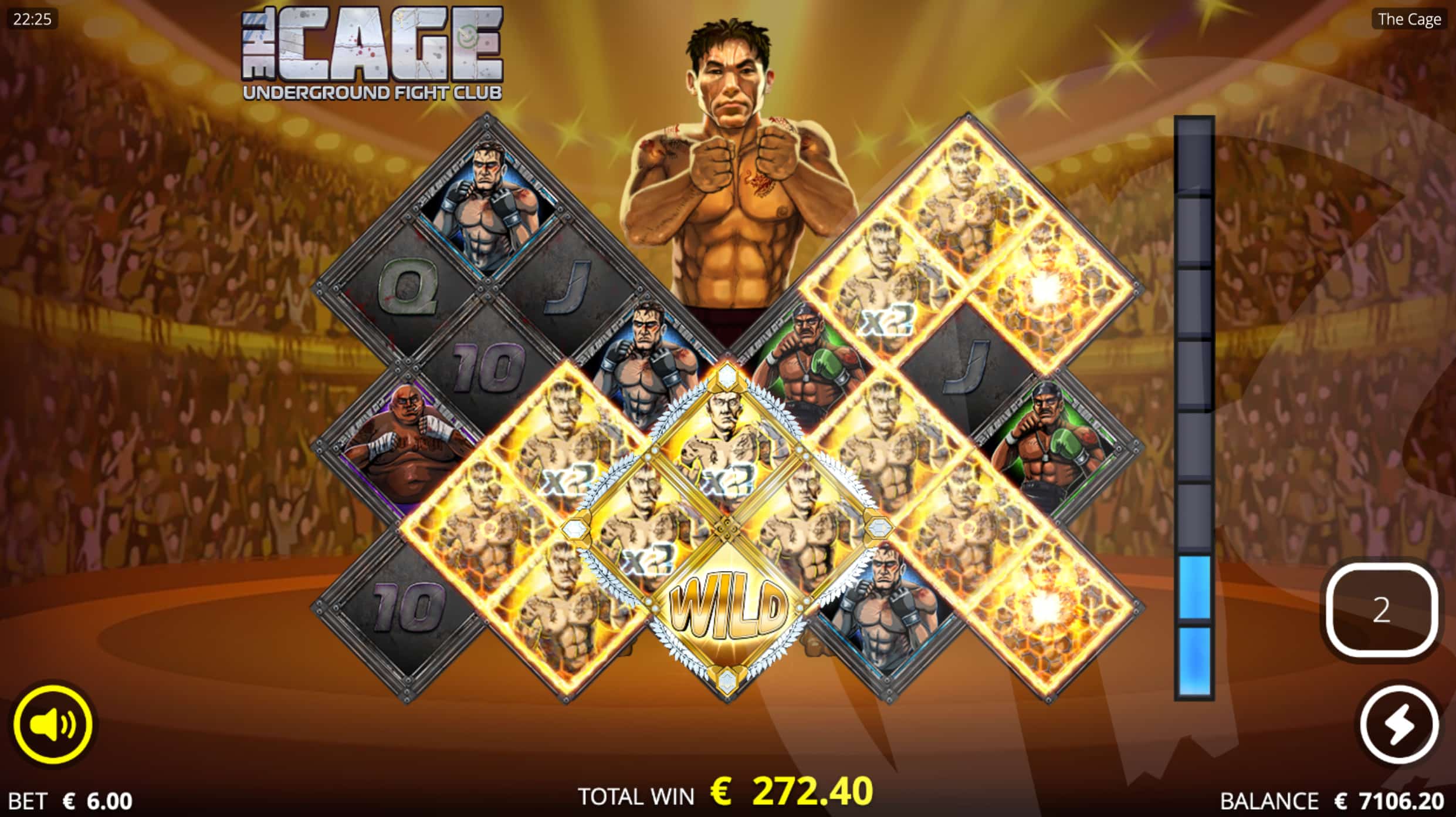 First Impression
If there's one thing that's true, it's that Nolimit City go out of their way to commit to a theme, and The Cage is further proof of that. There's plenty happening here to keep both regular players and fight enthusiasts entertained, topped off with great audiovisuals to immerse us.
In the base game, collapses along with Roundhouse Kick and Wild Knockout xBombs help to keep things ticking over, but it's the bonus round where things really amp up.
With 5 fights to take on and 4 Title Belts to unlock, there's enough here that it could be a while before any two bonuses will feel at all similar. You might get unlucky and fail to knock out Big Fatty, or you might sail to glory and take on Little Dragon, picking up an additional +14 spins along the way and unlocking symbol transformations, a symbol multiplier and a sticky wild.
When the right combinations land, wins are possible up to 25,000x bet.
Finally, maths is highly (8) volatile, and RTP options are available up to 96.05% (96.33% feature buy), so as always it's worth checking this.
Nolimit City often offer an upgrade into a super bonus, but replacing that with the progression in this release is sure to thrill a variety of players who aren't afraid to get down and dirty.
Other maths information, for those who are interested, is as follows:
RTP: 92.09% – 96.05%
RTP Main Game: 64.32%
RTP Bonus: 31.73%
Volatility: High (8)
Hit frequency: 31.98%
Free Spins: 1 in 205 spins
Win 100x bet: 1 in 1,122 spins
Max win: 25,000x bet
Max Win Main Game: 1 in 36 million spins (96.05% RTP)
*The screenshots taken of games reviewed on this site are taken from Demo Play, as reviews are often written before games are released for real play.