Dogs are some of the best animals on earth, and make the greatest companions – and it seems 4ThePlayer are aware of this. Intuitive, loyal, and loving, it's no wonder that 44.5% of US homes and 38% of UK homes own a dog – that's millions of dogs.
It's also no wonder that game studios continue to revisit our furry friends in the pursuit of making fun and inviting games – like Hacksaw Gaming in Pug Life, and Pragmatic Play in The Dog House. Now, 4ThePlayer are giving us their attempt as they step out of the waters of 4 Fantastic Fish in Egypt to introduce us to 5 Doggy Dollars.
With an RTP of 96.0%, this highly (5/5) volatile release can produce wins up to 7,000x bet.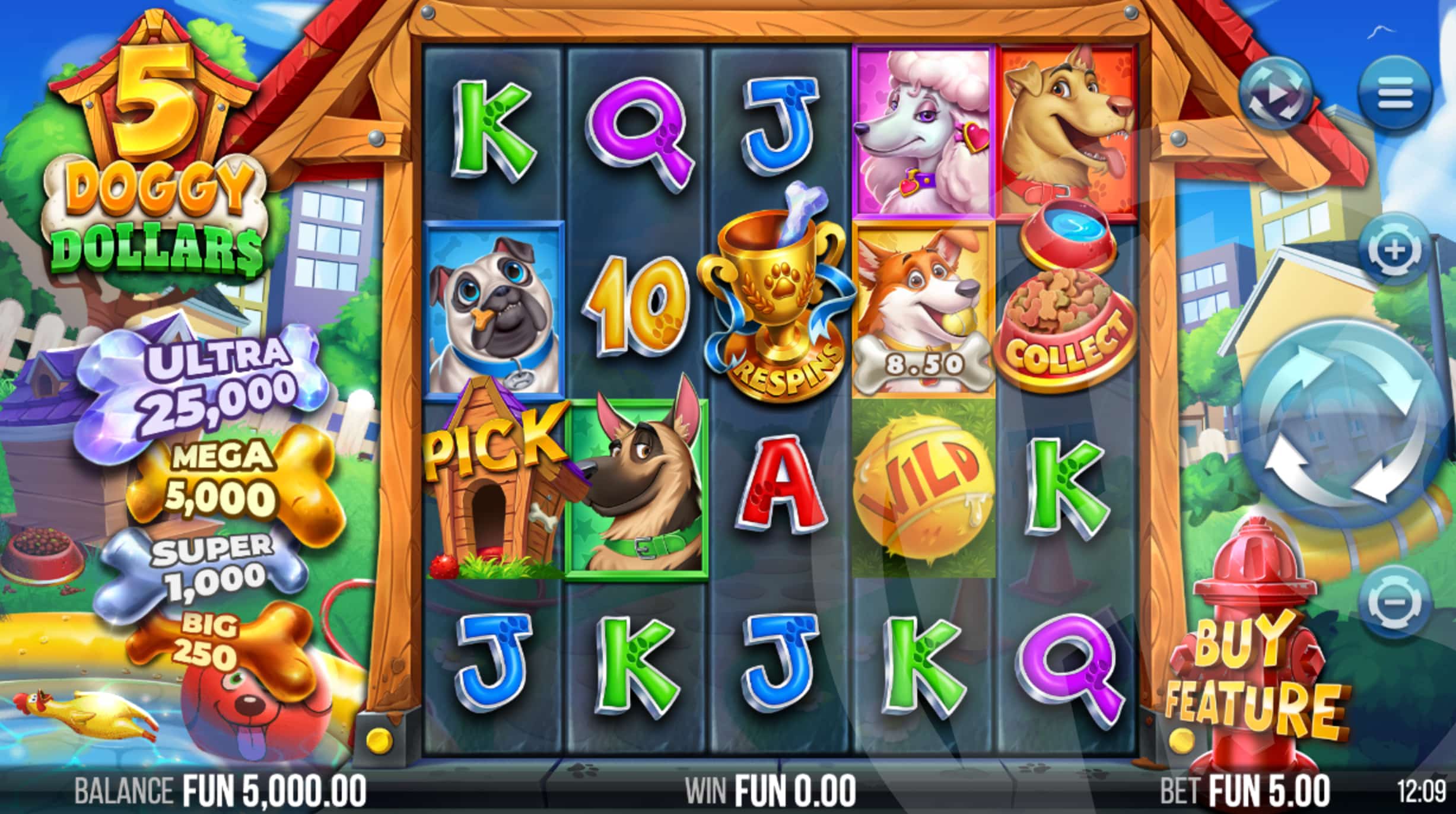 Here's the thing, I'm partial to a 'muted' release. One that looks really aesthetically pleasing, matching together a subtle colour palette that you could stare at for hours. When it comes to these kind of themes though, I like it to be bright, fun, and colourful – which is what we have in 5 Doggy Dollars.
We're in a back yard today, with bright blue skies littered with fluffy clouds, and vibrant green grass lined with a white picked fence. A variety of dog toys sit around the yard alongside a dog house, fire hydrant, paddling pool, and an overflowing food bowl, whilst the reels are kept in a large dog house and encompass some of the best breeds out there – including pugs, corgis, and poodles (no dachshunds though, much to my dismay).
Finally, an upbeat and jazzy tune comes in to set the whole thing off.
5 Doggy Dollars Base Features
Taking place across 5 reels, wins are formed on 5 Doggy Dollars by matching at least 2 or 3 symbols on adjacent reels, beginning with the leftmost reel. Each reel holds 4 symbols, producing 1,024 ways to win. Symbols available begin with non premiums, with 10s, Js, Qs, Ks, and As, awarding wins between 0.20 and 0.30x bet for 3 of a kind matches, increasing to values between 1 and 1.50x bet for 5 of a kind wins.
At the premium end we meet the dogs, beginning with pugs, corgis, and poodles, awarding wins between 0.30 and 0.50x bet for 3 of a kind matches, increasing to values between 2 and 2.50x bet for 5 of a kind wins. This is followed by two more dogs –  labradors, and what looks to be dobermans – and these are the only two to pay for 2 of a kind. Land 2 of a kind of either of these dogs to see wins of 0.20x bet, increasing to values between 3 and 4x bet for 5 of a kind matches.
Finally, a Wild tennis ball is available, substituting for all symbols except any of the Scatters.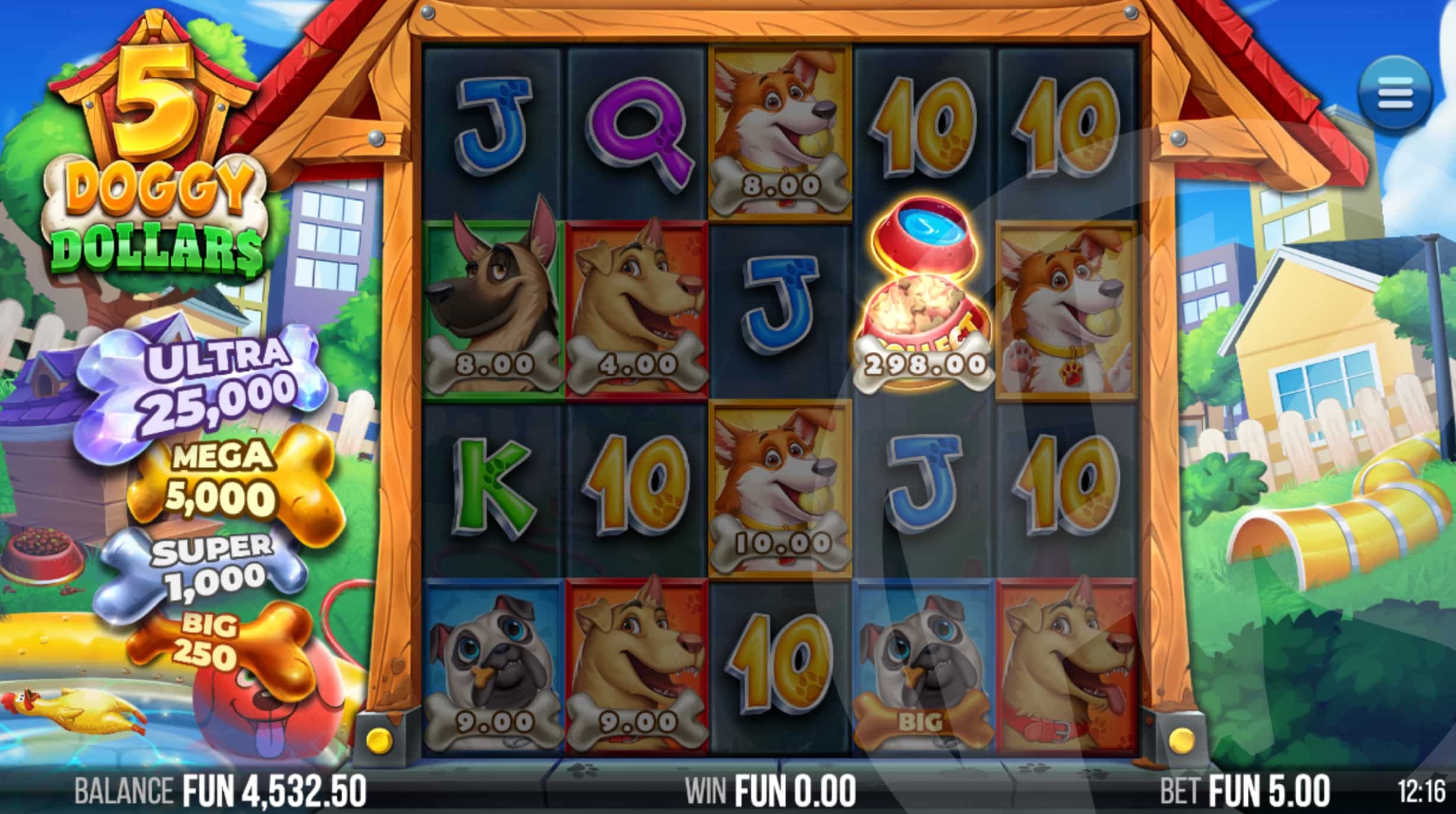 Cash Bones
Alright, so the first things to cover in 5 Doggy Dollars are Cash Bones, which can land on any Wild symbol or Dog symbol.
If Dog symbols or Wild symbols containing Cash Bones form a ways win, their values are awarded as cash prizes thanks to Money Ways.
Depending on the reel these symbols land on, the potential values will be different.
Reel 1: up to 2.20x bet
Reel 2: 0.60-3x bet
Reel 3: 1.50-5x bet
Reel 4: 2.50-10x bet
Reel 5: 6-45x bet
Additionally, it is also possible to land Big Prize Bones on any reel, which are Big, Super, Mega, and Ultra Bones, with values of 50, 200, 1,000, and 5,000x bet respectively.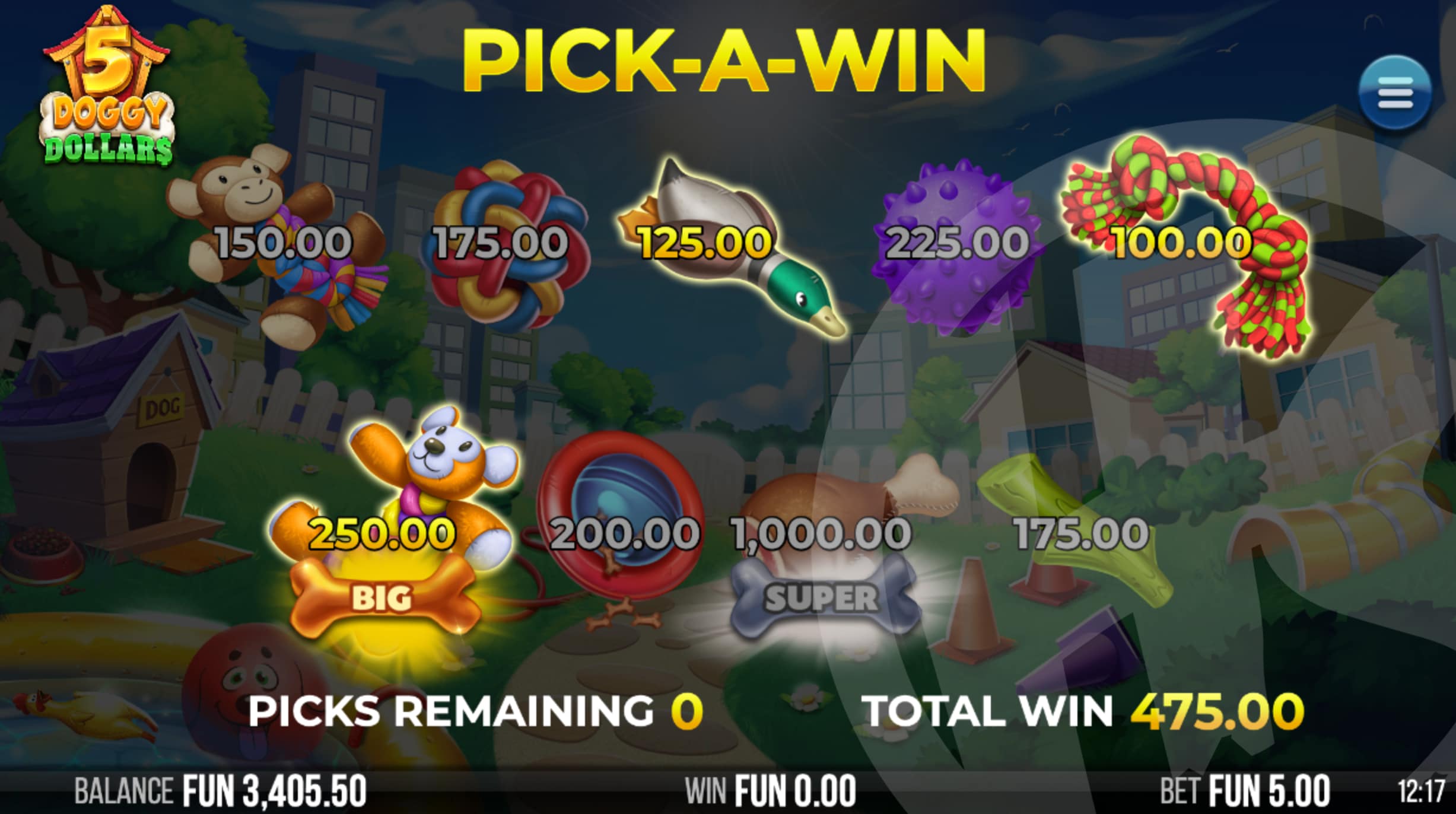 Alongside this, Collect Scatters, styled as food and water bowls, can land in view, and will collect the value of all Cash Bones in view, awarding the total.
Pick-a-Win Bonus
Next up is the Pick-a-Win Bonus, which is triggered by landing 3 or more Pick Scatters (styled like dog houses) on the reels. One pick is awarded for every Scatter that lands in view.
During this feature, players are taken to a screen with a number of dog toys in view to choose from.
Each pick will reveal a cash prize, with possible prizes ranging from 5x bet up to the Ultra Bone – worth 5,000x bet.
Frisbee Feature
Finally, the Frisbee Feature can be triggered, wherein a frisbee will appear and shuffle symbols to create or improve a winning combination.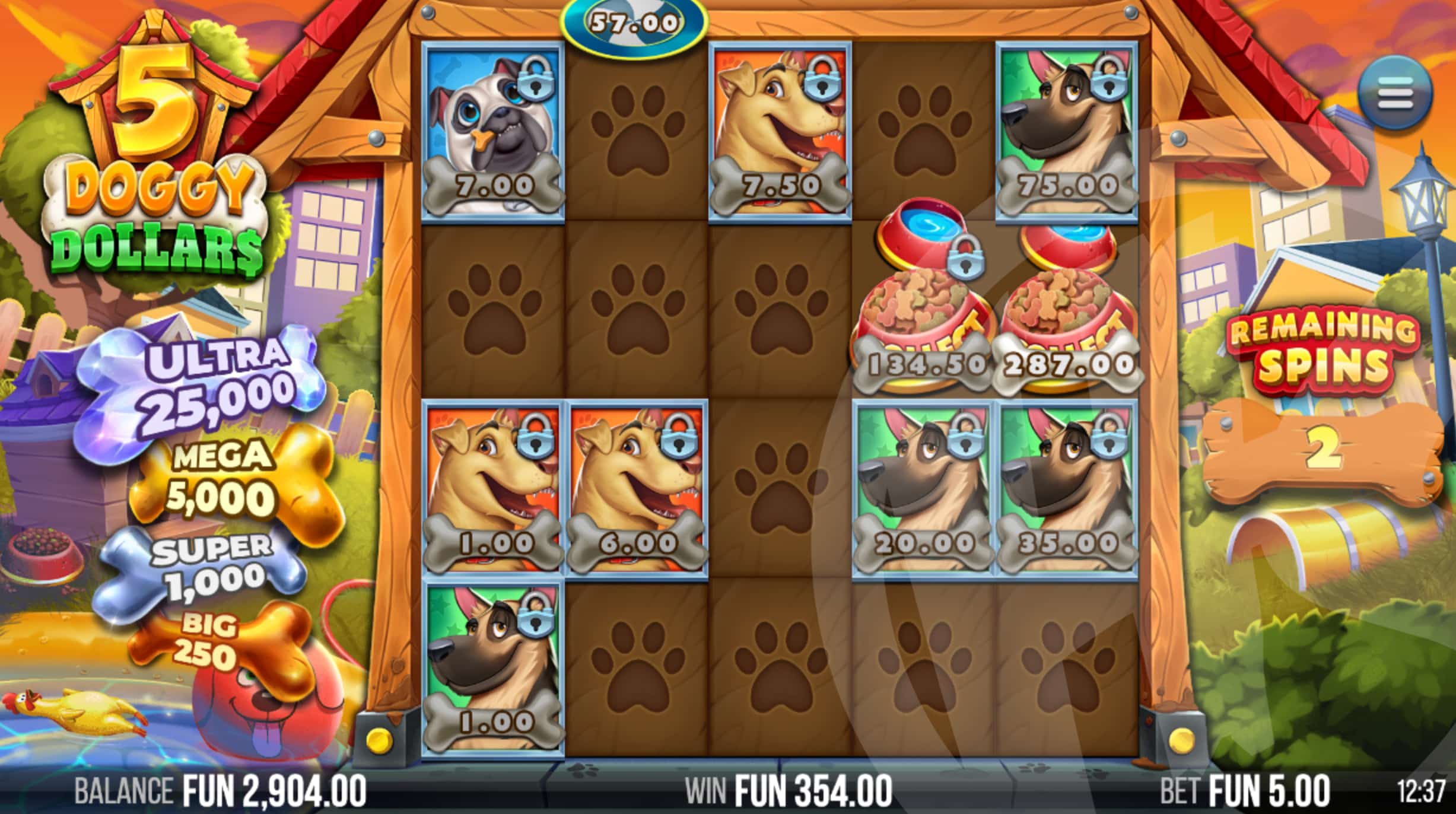 5 Doggy Dollars Bonus
Land 3 or more trophy Respin Scatters to trigger the Respin Bonus, wherein 3 spins are awarded. During the Respin Bonus, only Dog symbols and and Wild symbols can land on the reels – with or without Cash Bones attached.
When a symbol with a Cash Bone lands, it will be locked into place and spins will reset back to 3.
Any symbols which form regular ways wins will also pay out their win value, including those that have been locked into place, meaning they can repeat every spin.
It is also possible to land Collect Scatters, which will collect the value of all Cash Bones in view and lock on the reels, storing the total.
Finally, filling a reel with locked in symbols will award the Frisbee Feature, wherein all symbols locked on the reels will have their total value collected, multiplied by x2, and stored in a frisbee at the top of the reel.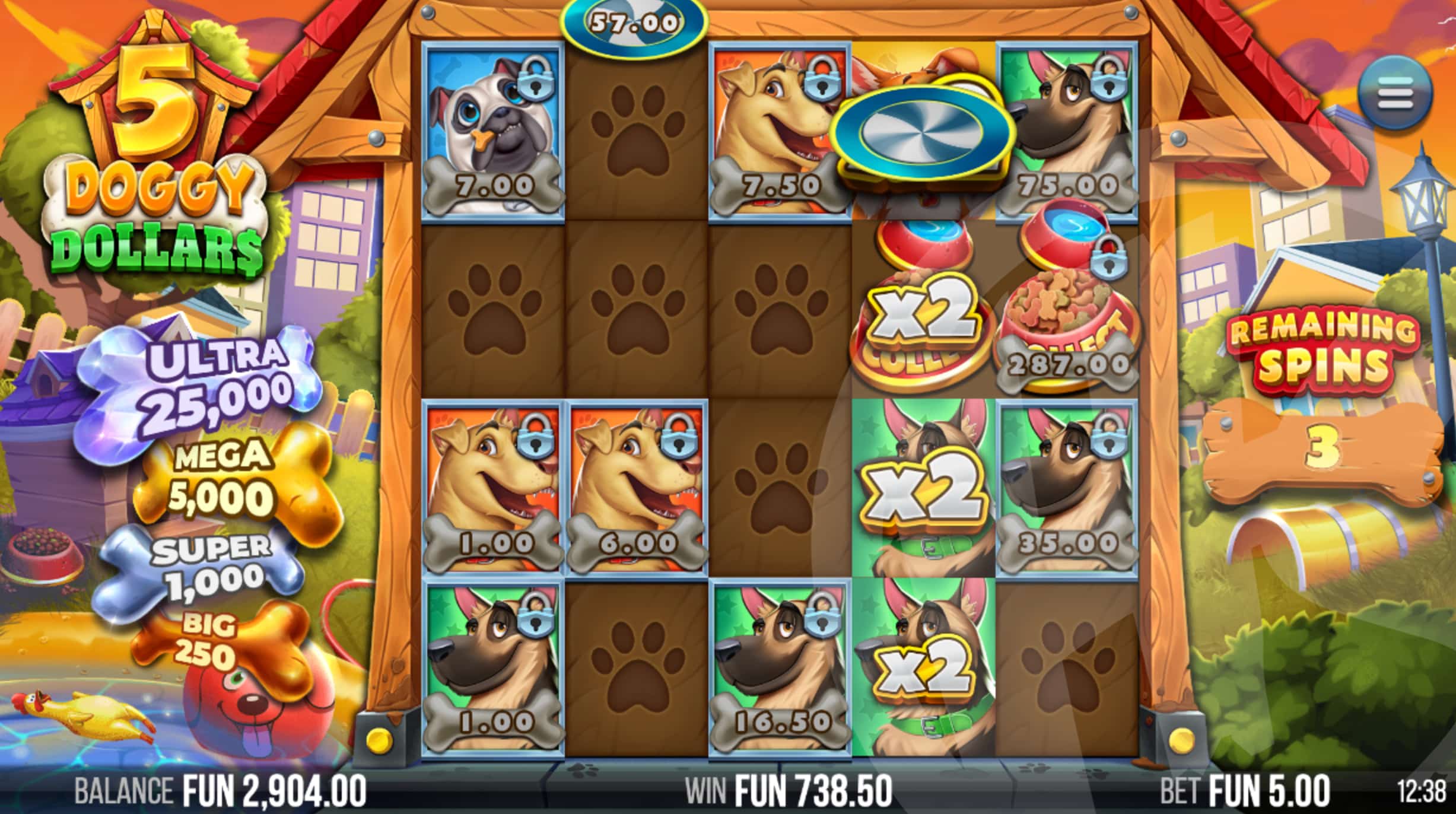 All reels are unlocked in the Respin Bonus, but possible Cash Bone values depend on the reel they have landed upon, in the same way as the base game.
Reel 1: up to 2.20x bet
Reel 2: 0.60-3x bet
Reel 3: 1.50-5x bet
Reel 4: 2.50-10x bet
Reel 5: 6-45x bet
When no spins remain, all locked in values are collected and awarded.
Buy Feature
Players in appropriate regions can skip straight to the action with a choice of Buy Feature options.
Super Collect (single spin with guaranteed Cash Bones and Collect Scatter) – 30x bet
Respin Bonus – 75x bet
Pick-a-Win (3-5 Scatters) – 160x bet
The maximum win available in 5 Doggy Dollars is 7,000x bet. If the sum of a single game round exceeds this, the game round will end and 7,000x bet will be awarded.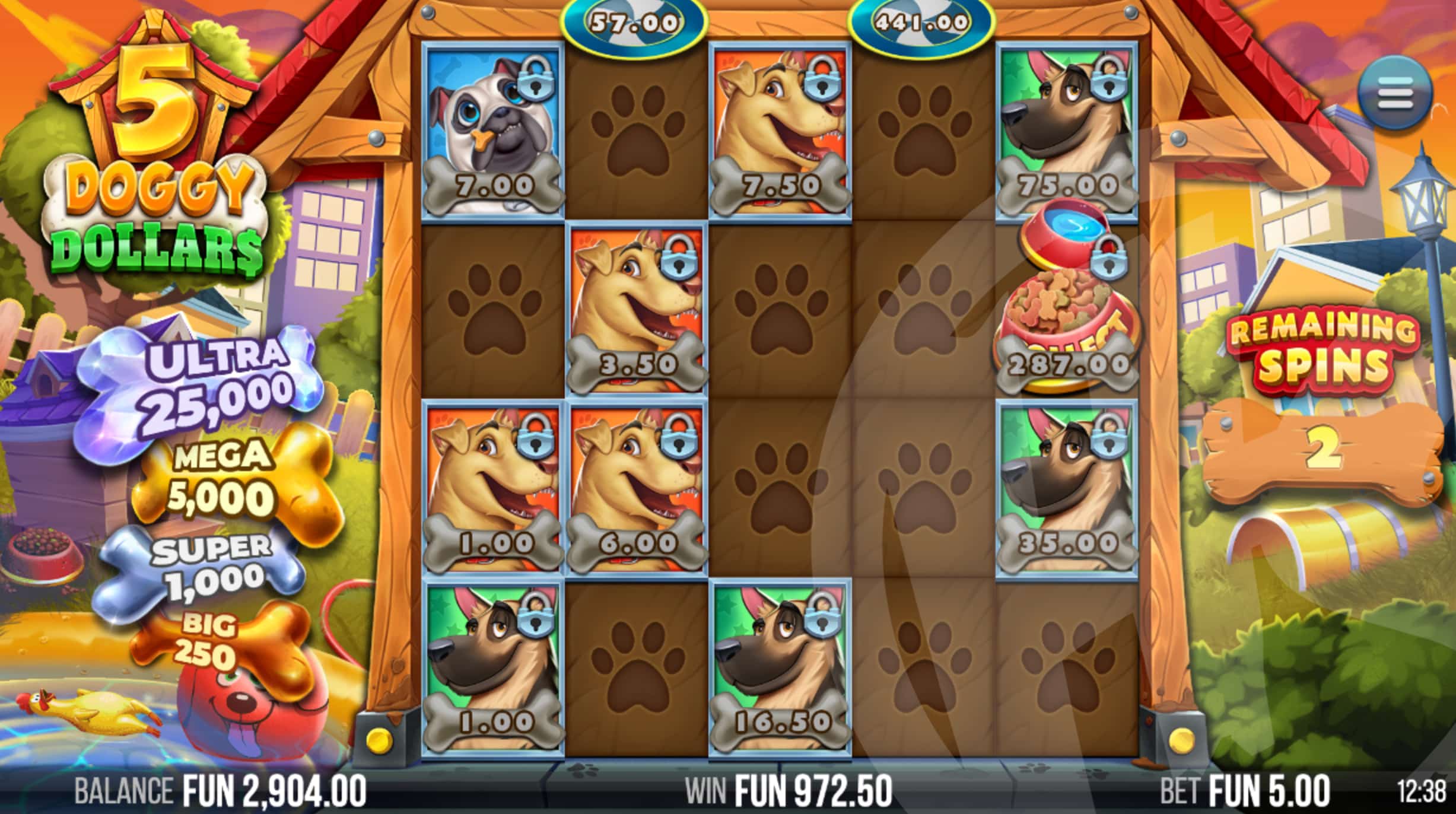 First Impression
If you're an established fan of 4ThePlayer, you'll immediately recognise some similarities between 5 Doggy Dollars and 4 Fantastic Fish. The obvious difference is that all reels are unlocked in this Respin Bonus, and we have an additional Pick-a-Win Bonus to keep things feeling fresh, similar to that of 3 Lucky Leprechauns.
In the base game, Cash Bones, Collect Scatters, and this Pick-a-Win Bonus all help to keep things ticking over.
When it comes to the Respin Bonus though, things get a bit more exciting, especially with the possibility to land Cash Bones and Big Prize Bones, the Frisbee Feature, and Collect Scatters.
Add on top that collectors can collect existing collectors, and frisbee values, and you see pretty quickly how impressive wins are possible – kind of like a canine Money Train. When the right combinations occur, wins are possible up to 7,000x bet.
Finally, maths is highly (5/5) volatile, and RTP is 96.0%, so no issues on either front. If you're a fan of a hold and win style feature along with 4ThePlayer's existing catalogue, 5 Doggy Dollars will suit you perfectly.
For those interested, Slot Stats are provided for 5 Doggy Dollars. The average best win after 100 spins is:
All players – 46x bet
1 in 10 players – 187x bet
1 in 100 players – 486x bet
1 in 1000 players – 1,539x bet
*The screenshots taken of games reviewed on this site are taken from Demo Play, as reviews are often written before games are released for real play.