It's September, so we're officially into autumn and you know what that means. We're about to see a lot of things that shouldn't be pumpkin spiced but somehow still are pumpkin spiced, we're going to see a lot of leaves on the ground, and we're going to see some Halloween slot releases.
For our first Halloween review of the year, we turn to 4ThePlayer, who are bringing us a spooky sequel to their 2023 release 3 Lucky Leprechauns. It's hubble, bubble, toil and treasures from 4ThePlayer today, who invite us to leave behind the mammoths of 10000 BC DoubleMax and embark on a spellbinding journey to spin the Witches' Wheel in 3 Lucky Witches.
With RTP options up to 96.0%, this medium to highly volatile release can produce wins up to 5,000x bet.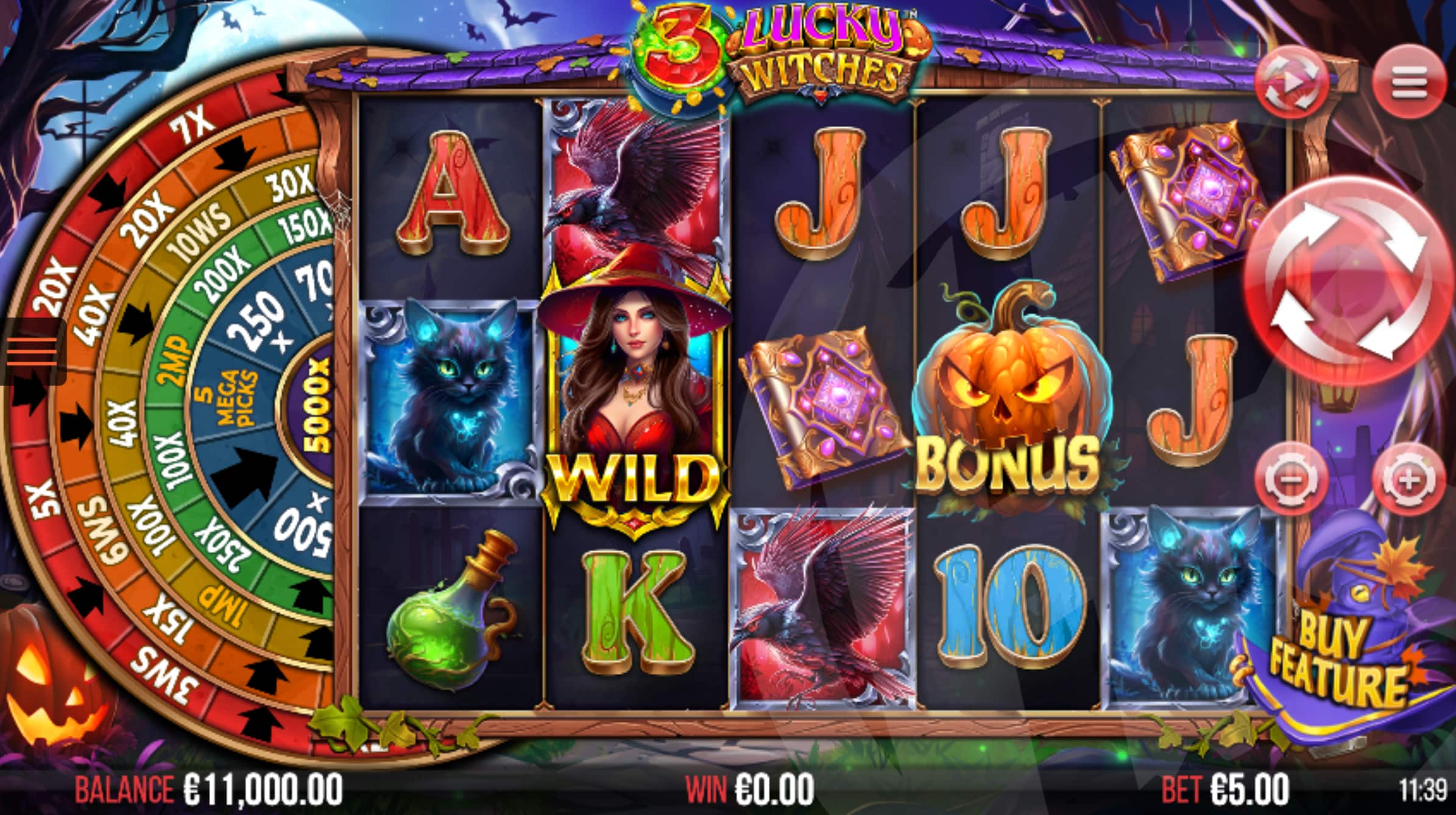 Things are distinctively spooky in 3 Lucky Witches, where we find ourselves outside on a cool, dark night in front of a strange looking house. To the sides of the reels stand swooping trees, whilst a full moon is visible in the background, with some bats silhouetted against it. Symbols on the reels help to enhance the atmosphere with ravens, candles, black cats, potions, spell books, and witches. Aside from this, witches hats, lanterns, leaves and pumpkins set the rest of the scene, whilst a mysterious soundtrack comes in to tie it all together.
The majority of the attention, however, is given to the Witches Wheel, sitting to the left of the reels. Similarly to 3 Lucky Leprechauns, where the Leprechaun Trail sits in view, players can see the prizes available at each stage of the Witches Wheel, including the maximum win of 5,000x bet.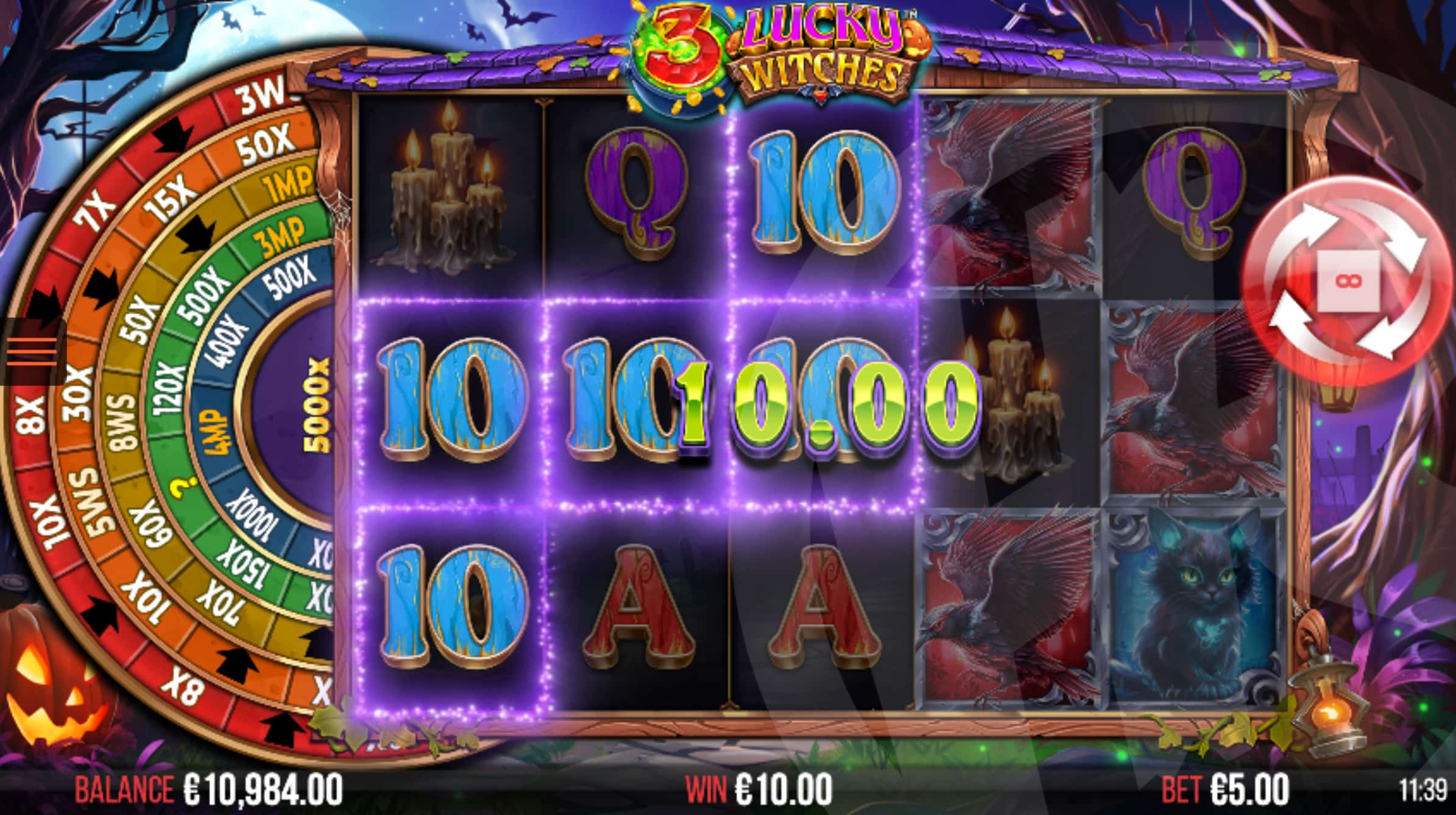 3 Lucky Witches Base Features
Taking place across 5 reels, wins are formed on 3 Lucky Witches by matching at least 2 or 3 symbols on adjacent reels, beginning with the leftmost reel. Each reel holds 3 symbols, producing 243 ways to win. Symbols available begin with non premiums, with 10s, Js, Qs, Ks and As, awarding wins between 0.50 and 0.70x bet for 3 of a kind matches, increasing to values between 3 and 5x bet for 5 of a kind wins. In the midrange we find candles, potions and books, awarding wins between 1 and 1.50x bet for 3 of a kind matches, increasing to values between 8 and 10x bet for 5 of a kind wins.
The first premium is a raven, awarding wins between 1.50 and 20x bet for matches between 3 and 5 of kind, whilst the highest paying symbol is the black cat – also the only symbol to pay for 2 of a kind. Land between 2 and 5 black cats to see wins between 0.50 and 30x bet. Finally, witches act as Wild symbols and substitute for all symbols except Bonus Scatters.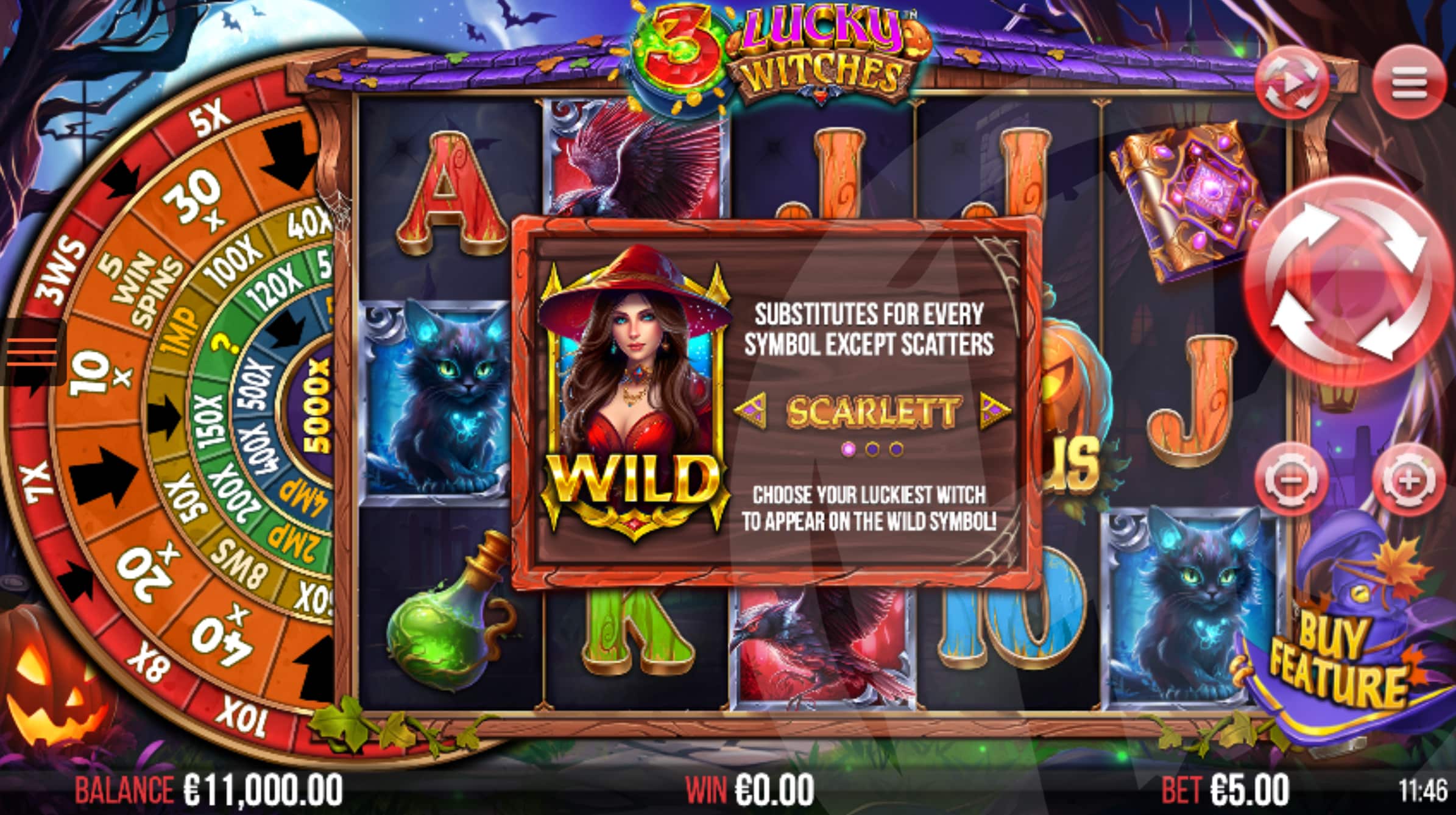 Much like its predecessor, 3 Lucky Witches doesn't offer anything in the way of base game features, but we do maintain the fantastic bonus rate of 1 in 75 spins on average.
Alongside this we know that, according to ThePlayer's SLOT STATS, the average best win after 100 spins is as follows.
All Players – 51x bet
1 in 10 Players – 241x bet
1 in 100 Players – 768x bet
1 in 1000 Players – 4,586x bet
Choose Your Witch
Finally, players can choose their Luckiest Witch, which is the character that will appear on the Wild symbol. There are 3 choices – Scarlett, Ivy and Celeste.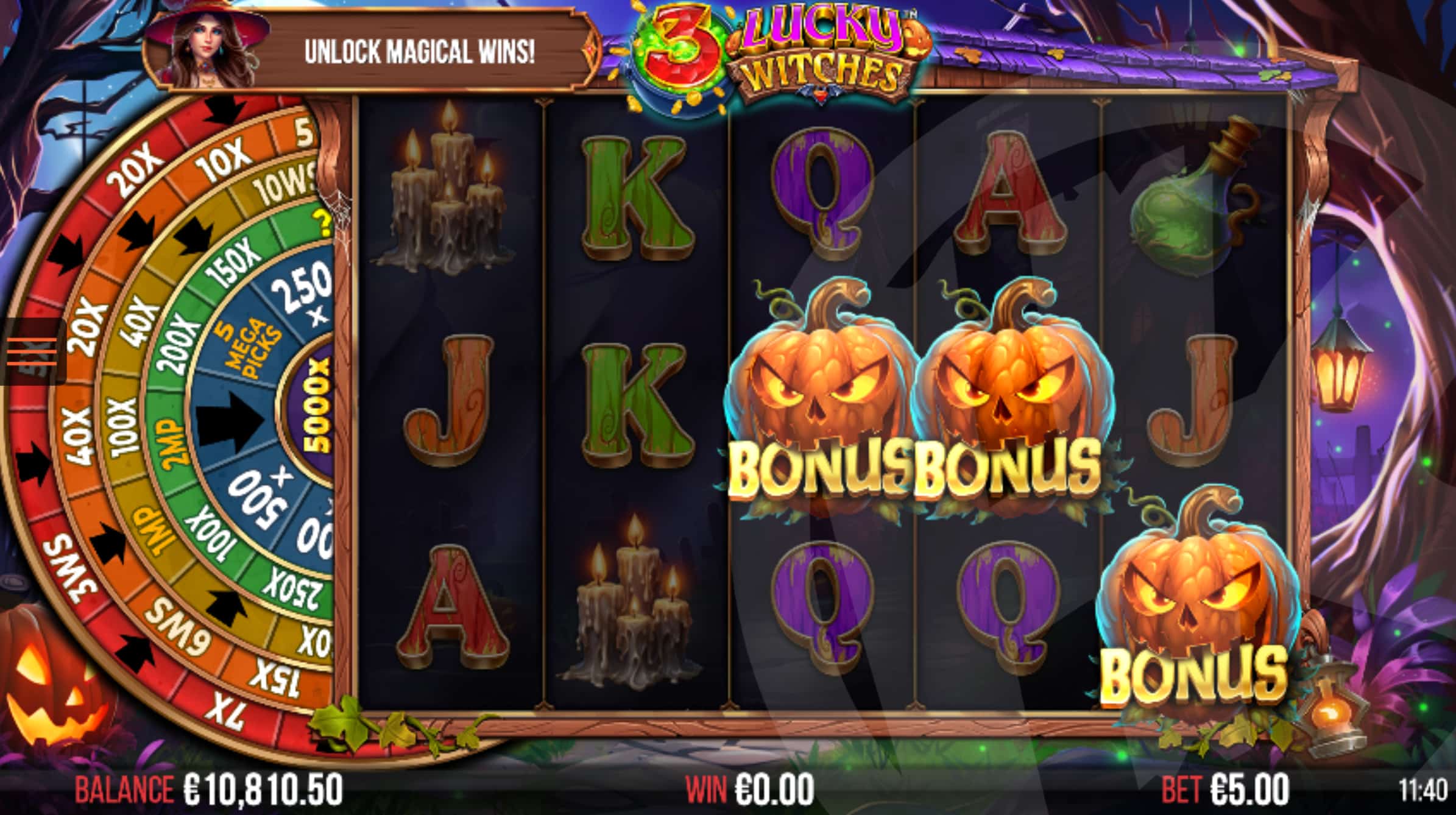 3 Lucky Witches Bonus
Land 3 or more Bonus Scatters to trigger the Witches' Wheel. By landing additional Scatters, it is possible to start further in on the wheel.
3 Bonus Scatters – Wheel Level 1
4 Bonus Scatters – Wheel Level 3
5 Bonus Scatters – Wheel Level 5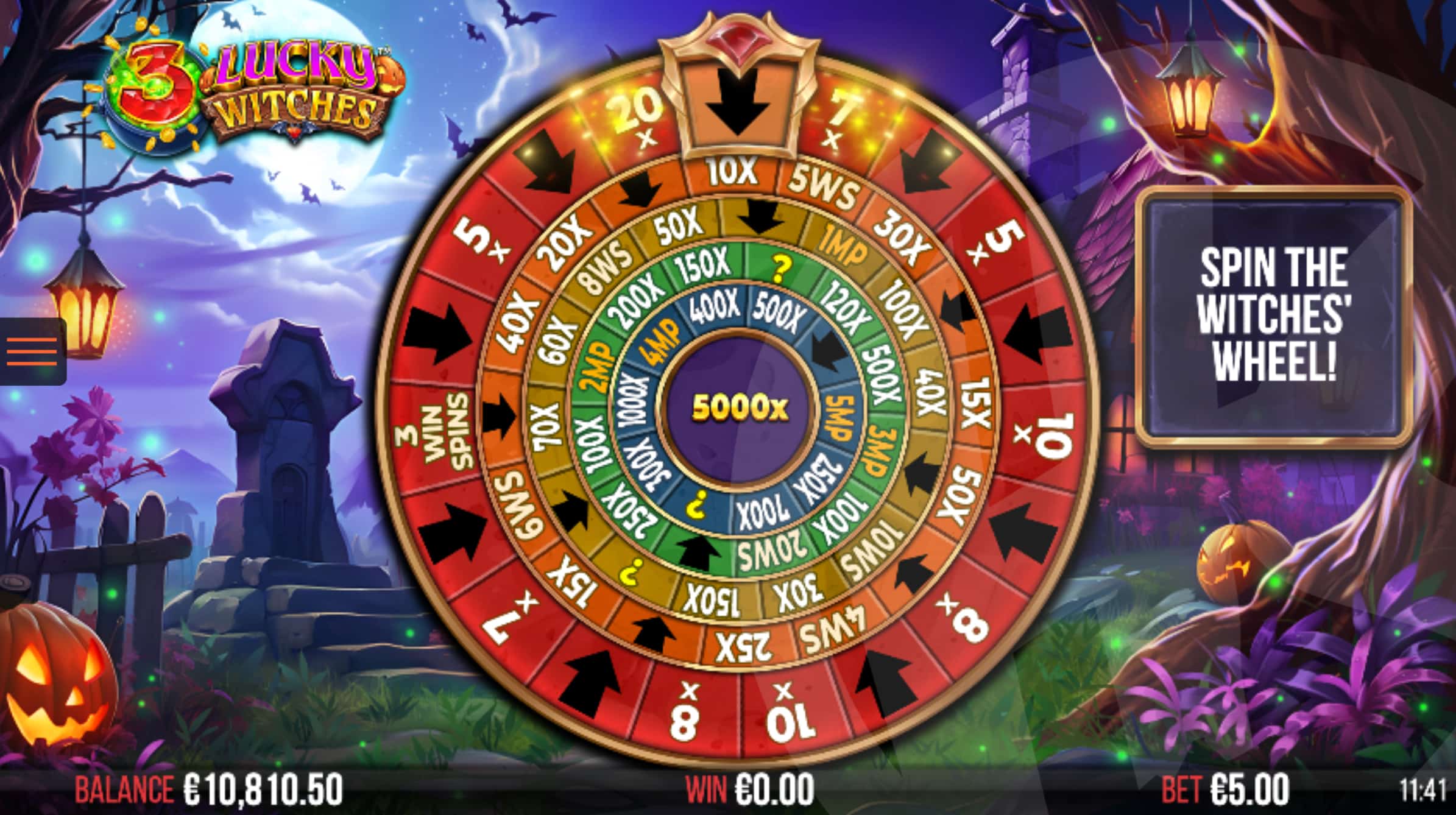 Bonus Prizes
When the Witches' Wheel bonus begins, players will spin the wheel and either land on a prize or an arrow, with an arrow offering progress to the next level. There are 3 types of prizes to be won.
Cash Prizes – between 5 and 5,000x bet.
Win Spins – between 3 and 20 spins. Every spin is a win, and every win is multiplied by 3x.
Mega Picks – up to 5 picks, with each pick awarding between 20 and 590x bet.
When Win Spins or Mega Picks are awarded, players can choose between playing their bonus or taking a Cash Prize instead. All Cash Prizes are listed on the Witches' Wheel.
Win Spins have a guaranteed minimum prize.
? Feature
Finally, there is a new ? Feature. When players land on this they can choose between a cash prize, up to 18 Win Spins with a multiplier up to x10, or up to 5 Mega Picks.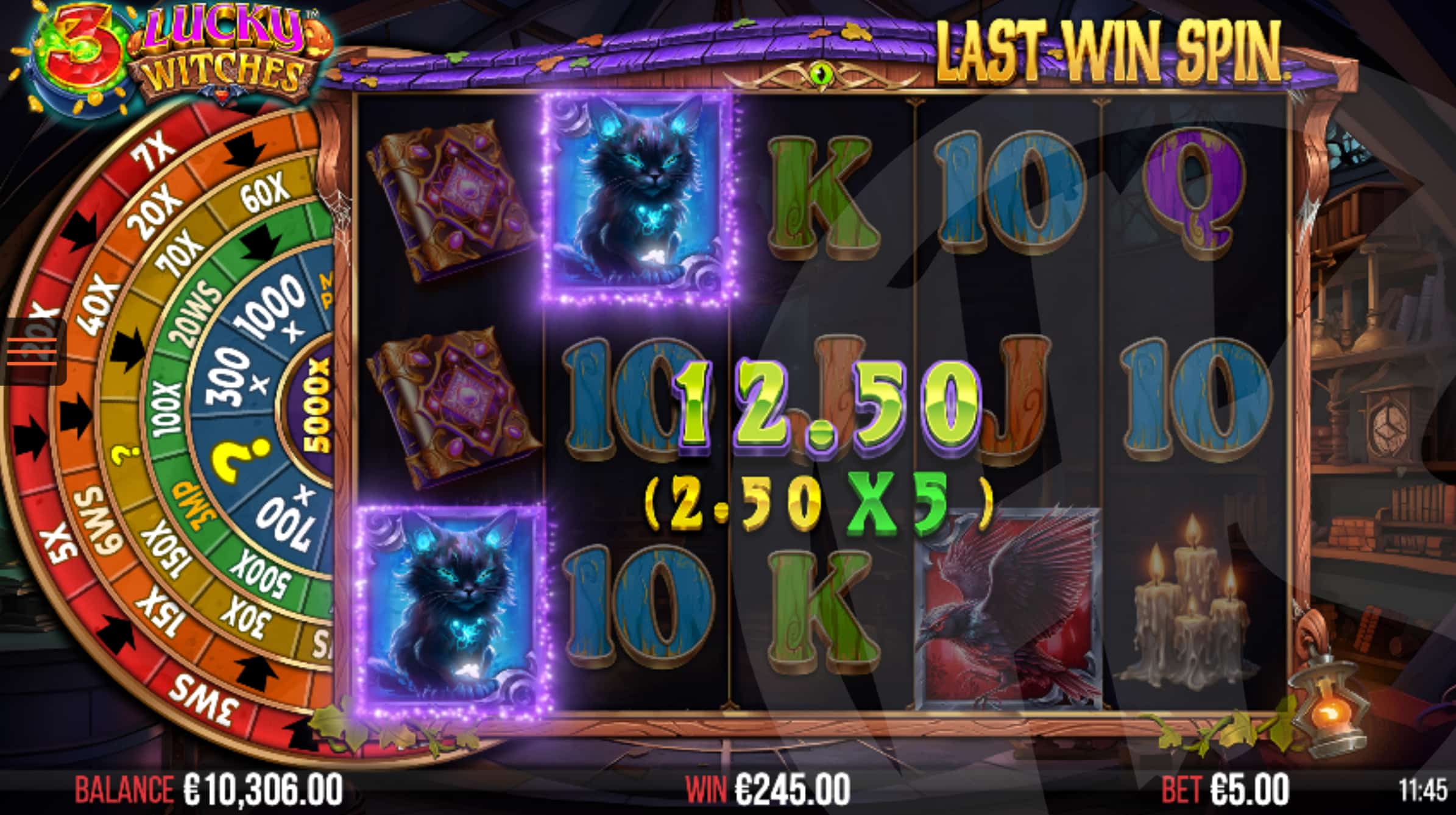 Buy Feature
Players in appropriate regions can skip straight to the action with the following Buy Feature options:
Witches' Wheel (3-5 Bonus Scatters) – 35x bet
Win Spins (5-20 spins) – 60x bet
Mega Picks (1-7 picks) – 250x bet
When buying Win Spins or Mega Picks it remains possible to collect the Cash Prize alternative.
The maximum win available in 3 Lucky Witches is 5,000x bet. If the sum of a single game round exceeds this, the game round will end and 5,000x bet will be awarded.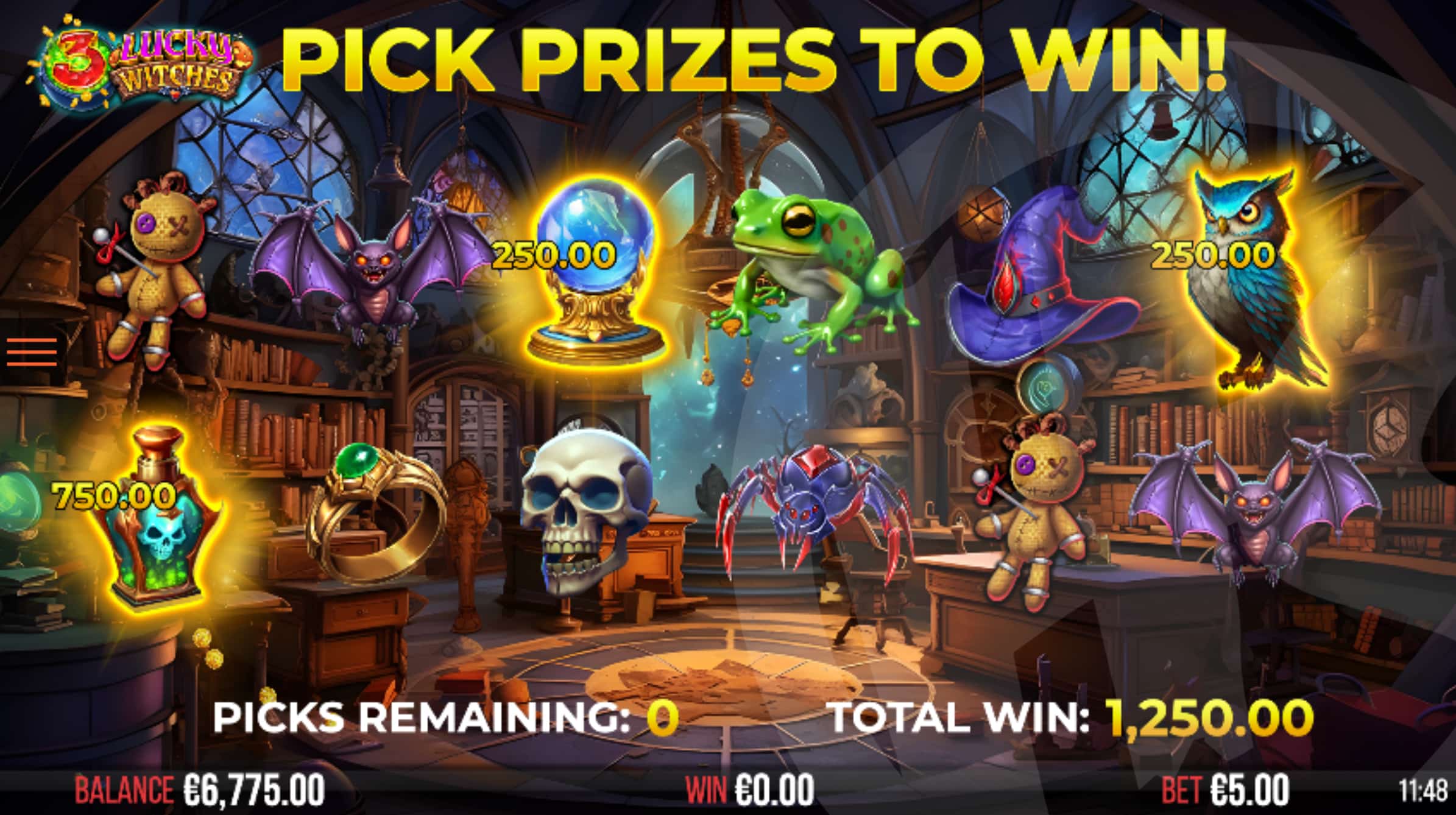 First Impression
Much like its predecessor, 3 Lucky Witches packs a heap of action in to help keep us engaged and interested. With a bonus frequency of 1 in 75 spins on average, there's no need for base game features that would unnecessarily dilute this experience. Instead, we're happy to wait for the feature, relying on 243 ways to win to keep things moderately exciting outside of this. Well, that and the fact that you can choose your own witch, which is a nice little touch.
There have been no major changes to features or mechanics in a way that helps this feel like a sequel, but that doesn't mean there are no changes at all. Firstly, the trail has been swapped for a wheel, and we have a new ? feature, awarding cash prizes, Win Spins or Mega Picks.
With the ability to buy in to different levels of the wheel in appropriate regions, there's plenty here to help a relatively simple concept feel interesting. When the right combinations occur, wins are possible up to 5,000x bet.
Finally, maths is rated medium to high for volatility, and RTP options are available up to 96.0%, so as always it's worth checking this.
If you liked 3 Lucky Leprechauns and you fancy a spooky twist on it, 3 Lucky Witches is perfect for you. If you weren't convinced the first time around, there might not be enough changes to convince you now.
*The screenshots taken of games reviewed on this site are taken from Demo Play, as reviews are often written before games are released for real play.