Slots That Are Easy To Bonus
27 Apr 23Chloe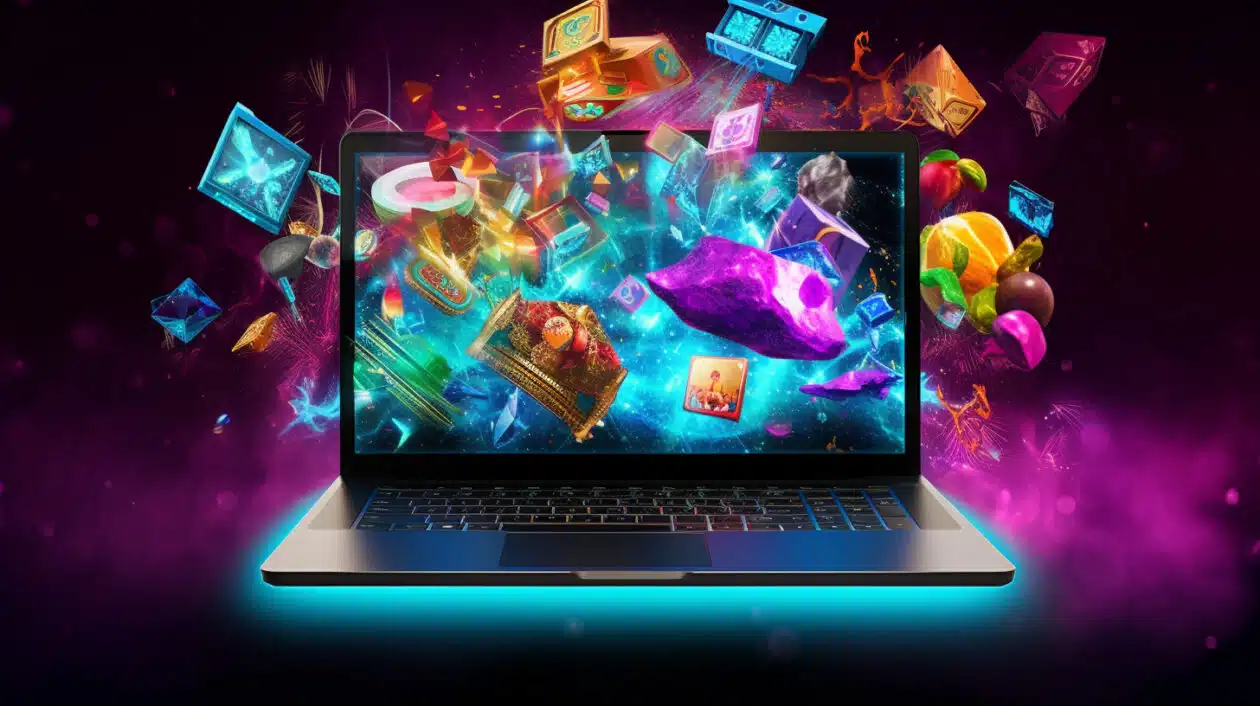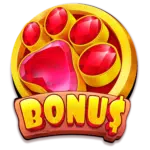 When we load up a new slot game, there is often a real expectation for something to happen quickly. Many of us will only give a new game a handful of spins before deciding to move on, and we want to see something that catches our interest. In the UK, with the introduction of slower spin speeds and the removal of autoplay, lots of players want to find the easiest slots to bonus.
Unfortunately, there is not a requirement for game providers to publicise the average time for a slots bonus to land. We know that factors such as RTP and volatility are important, but the majority of the maths behind a slot, and in particular a slot bonus, will always be a mystery. However, certain slots with bonus games do activate the bonus more frequently and some providers are very keen for their games to give a bonus within 200 spins on average.
You might be sitting here thinking that we're going to tell you about Wild North or Golden Colts slot as an example of slots that are easy to bonus, but that's not the focus today. We want to focus on recent slots that offer great win potential alongside a frequent bonus.
Best Slots For a Quick Bonus
Finding easy bonus slots that will give a quick bonus is imperative for certain players and their style of gambling. Maybe you're on a tight budget and you want to get the most excitement out of a small deposit, or maybe you have time limits set in place to stop you from spending too much time playing slots. No matter the reason, there are plenty of players who want to find slots with easy bonuses occurring as quickly as possible, so they get the most out of their money.
The Big Bass Series
Big Bass Bonanza, from Pragmatic Play partner Reel Kingdom, made a real splash when it landed in late 2022, quickly spawning various sequels that build upon the popular maths that makes this release so popular. The original version made public that it bonuses on average 1 in 113 spins, and of the 8 (soon to be 9) releases in this series so far, 6 of them have an average free spins frequency of 1 in 150 spins or less.
Of course, there should be an expectation that some of these bonuses will be quite poor, and the base game is almost non-existent to accommodate this frequency. With that in mind, sometimes you just want to throw 100 spins through a slot with a really high chance of getting a bonus and Big Bass Bonanza, and all of its sequels, is a real solid choice if this is your goal.
3 Lucky Leprechauns
Released by 4ThePlayer for St Patricks Day 2023, 3 Lucky Leprechauns has one of the best bonus frequencies we've ever seen – with bonuses landing 1 in 75 spins on average. When a bonus is triggered players are taken to the bonus trail, which has 3 stages – a cash prizes, win spins, or a pick bonus. At stages 2 and 3, players can choose to accept a cash alternative instead of taking their feature.
Now, this trail starts at a 7x bet win, but it goes all the way up to 5,000x bet – and you never know what you're going to get when it has been triggered. With all of its features, it can feel like 3 Lucky Leprechauns is the game that just keeps giving. Even when you're losing, you're getting lots of excitement – far better than losing as a result of 500 dead spins, right?
Pine of Plinko
Print Studios are one of the more unique studios on the market, constantly aiming to produce slots that are unlike most of what we've seen before. Earlier this year, they brought us Pine of Plinko – an entire slot focused around a plinko game. Pine of Plinko was released in two versions – one in which a Bonus Buy is available, and one in which Relax Gaming's famous Dream Drop Jackpots is available.
In either instance however, the bonus frequency is 1 in 100 spins on average. If this seems too high (and really, how could it?) the option exists to turn on the Scatter Boost feature bet, where players can bet an additional 75% to see a bonus on average 1 in 50 spins.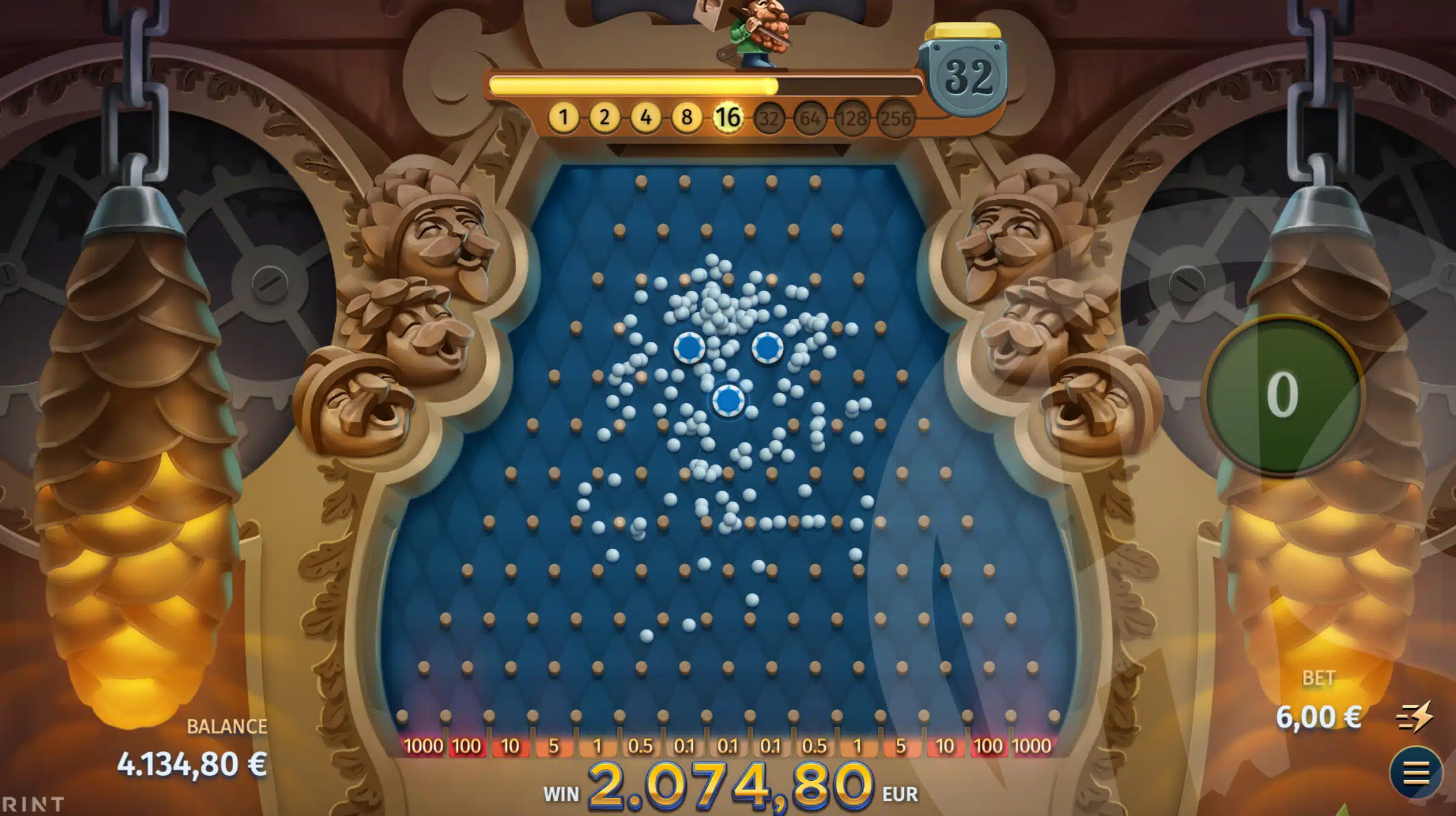 Pine of Plinko Plinko Bonus
Blood & Shadow
We suspect that no one was expecting to see Nolimit City on this list, but believe it or not many of their releases offer great bonus frequencies, and Blood & Shadow is one of the best – not just from Nolimit City, but on this whole list. Players have always associated this studio with extremely volatile maths models and super bonus rounds that feel unattainable without access to feature buys. What players forget is that there are regular bonus rounds that are attainable.
In Blood & Shadow, players can expect to trigger Candle Spins on average 1 in 13 spins. Obviously it's important to remember that there are various levels to Candle Spins and there's no guarantee of a huge, or even lengthy, spin – but it does get you on the board, similarly to 3 Lucky Leprechauns.
Since this is one of the most surprising studios to make the list, here are 6 other Nolimit City releases, all of which offer a regular bonus frequency of 1 in 201 spins or less – Folsom Prison, Dead Canary, The Rave, Fire in The Hole, Kiss My Chainsaw, and East Coast vs West Coast.
Worst Slots for a Quick Bonus
It feels unfair to label some games 'the worst' to achieve something. We're always working with averages, which means luck plays a huge part in all of this. That said, there are certain genres of releases that traditionally don't offer the fastest bonuses, so here are a few of them.
Megaways Slots
Megaways, the flagship mechanic from Big Time Gaming, is one of the most enjoyed elements of gambling, loved by players across the world. One of the reason Megaways is so loved, particularly in the United Kingdom, is due to how often we see huge base game wins in this releases. Don't forget what we said above – the games with the highest bonus frequency usually don't offer much in the base game, to make up for this frequency.
So, it's not really any surprise that Megaways releases offer some of the longest waits for bonuses.  Whilst it's exciting to land these bonuses, and the expectation is high when they come in, it's important to be prepared to wait a long time before these releases can give a bonus. Some of the most popular Megaways games, like Bonanza by Big Time Gaming, can frequently take more than 500 spins to land a bonus. This doesn't mean that the games are less enjoyable or pay less, and we know plenty of players that feel the base game experience more than makes up for this wait, but it is a different type of experience. Megaways releases will often offer lower minimum stakes too, which means players can adjust their usual bet accordingly to accommodate this wait.
Cluster Games
Cluster games are some of the most popular for players who want to be kept in a constant state of suspense when gambling, but they aren't the most common bonuses you'll see. With these releases, though, this isn't overly important – when we consider some of the most popular cluster games, like Giga Jar from Push Gaming, Reactoonz and Wild Frames slot from Play'n GO, or Millionaire Rush from Big Time Gaming, they all have progressive elements that build towards a bonus. This means that players are constantly building their way towards a bonus, unlocking additional little features along the way, which ones a long way towards breaking up the monotony.
Some might even say that these releases don't have a 'bonus' per se, and instead just offer a super modifier at the end. No matter how you feel about it, it's important to know what you're getting yourself into, and with a cluster release you won't see any official 'bonus' very often.
Getting the Most for Your Money
Players should always try to get the most out of their money at an online casino, but this doesn't necessarily mean winning. It's all about entertainment and feeling as though you're having fun, which is why it's important to know how often a game will bonus. You can also look at how often you'll see a base game feature, for example if you're playing a Blueprint Gaming release, like Rick and Morty or The Goonies. By knowing all of this information, you can choose the slots that most appeal to you, so you get the highest level of entertainment from your deposit.